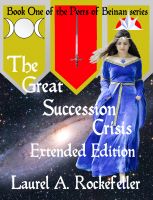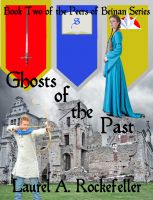 Bio: I was born and raised in Lincoln, Nebraska. A natural singer-songwriter from an early age, my interest in physics and astronomy were inspired by both early visits to Lincoln's Hyde observatory and by the 1977 release of George Lucas' "Star Wars" which caught my imagination alongside with Arthurian legends and medieval songs and tales. During my freshman year at the University of Nebraska, I discovered the work of J.R.R. Tolkien, inspiring me to write my sonnet "Why Bilbo?" which the American Tolkien Society published in 1991. More publications followed as my skill for writing increased with my education and life experience. Today, I am mostly known for my non-fiction work, particularly for Yahoo Voices. The Peers of Beinan is my first science fiction series.
What all have you written?: A singer-songwriter since early childhood, my initial publications were all poetry. In 1990, the Minas Tirith Evening Star chose my sonnet, "Why Bilbo" for the Winter 1991 Centennial edition honoring the 100th birthday of J.R.R. Tolkien. From 2001 to 2003, a New Jersey based newsletter called "The Mudpuppy" requested I write and ran a series of non-fiction articles on East Asian culture and history, inaugurating the non-fiction work I continue today with first Examiner.com, then Yahoo Voices.
To date, over 150 non-fiction articles published by Yahoo Voices inform readers on everything from history to politics to social issues, food/wine reviews, and beyond.
In 2012 my blog review of the first presidential debate between President Barack Obama and former governor Mitt Romney ran as part of BlogHer's 2012 election coverage.
In August 2012 I published the first edition of my first novel in my Peers of Beinan series called "The Great Succession Crisis." In January, 2013 re-writes in response to early reviews led to the revised edition and the extended edition for GSC. The extended edition features two additional chapters plus all five appendices (called data files), supportive non-fiction articles, and yes, even a recipe for one of the Beinarian desserts I created as part of my world building.
In March 2013, I published book two, "The Ghosts of the Past," a murder-mystery set three generations after the Great Succession Crisis.
In the summer of 2013, I indexed all three books with QR codes for smart phones, releasing what is likely to be literature's FIRST interactive paperback books. Readers simply scan the embedded codes with their smartphones to be taken to individual web pages featuring images, music, and expanded information on each topic. It's a unique solution to the problem of under-utilization of my data files, bringing all that information straight to your phone as you read.
Where can we buy or see them?: My paperback editions are available from CreateSpace and Amazon sites worldwide with many bookstores and book store chains offering them through their websites as well.
Every paperback book includes a 25% off coupon code good on any Peers of Beinan series book when purchased on CreateSpace.com (see http://www.peersofbeinan.com for CreateSpace links to each book).
Digital editions are available through the Kindle store, SmashWords, and as a special three for the price of one bundle (1 each epub, mobi, and pdf) on the Peers of Beinan store on Etsy.com.
Tell us a little bit about your main character: The Peers of Beinan series is an epic medieval science fiction adventure series with multiple "main" characters.
Book one "The Great Succession Crisis" focuses on Princess Anlei, the adolescent daughter of Queen Isabelle who must learn to accept her heritage as daughter of a queen and granddaughter to Beinan's most powerful religious leader, to become the person she was always born to be.
Anlei's journey takes her from cold, irreverent adolescent five yen-ars from coming of age through the political minefield that becomes known to later generations as "the Great Succession Crisis of BE 6326-8," into marriage, early motherhood, and finally to matriarch of her family. It is a journey grounded in both history and our own lives as women.
In book two "The Ghosts of the Past" an ensemble cast of Anlei's descendants face terrorism, love, and loss as the villain of The Great Succession Crisis pursues his revenge from the grave — and through his followers.
Central characters in Ghosts of the Past include Lord Knight Elendir of house Ten-Ar, his best friend Prince/King Kendric, Kendric's daughter Princess/Queen Constance, and Constance's daughter, Princess Anyu, the narrator of the "Anlei's Legacy" trilogy (Peers of Beinan books one, two, and three).
What are you working on at the minute? What is it about?: Right now I am working on book three, "Princess Anyu Returns" which I think everyone will love. It's the story of Princess Anyu's exile to D425E25 Tertius, her return to Beinan, and the battles she fights to free her people from Lord Yelu's iron-fisted reign of terror.
Returns is a story of survival under harsh conditions and the way that love, hope, and friendship can overcome the most impossible of obstacles — including a hostile planet filled with toxic gas.
What genre are your books?: My books are multi-genre. They are historical fiction, science fiction, fantasy, murder-mystery, romance, adventure, coming-of-age, and political thrillers.
What draws you to this genre?: I love stories that cross genre lines. The best stories have rich and detailed, highly researched settings while also telling great and captivating stories. I think I achieve all of that with the Peers of Beinan series, offering great and believable world building grounded in science, history, anthropology, and so forth while also addressing social issues and asking questions that I think are not asked nearly often enough in our new instant gratification society.
Books, television, and movies should provoke you into thinking. That's one reason why I feel Star Trek is the phenomena that it is; it explores questions about life and society without setting the stories too close to home.
We need more of that.
Do you have to do research for your books?: My books are very research grounded. So much so that I don't feel I imagine really anything, but apply and redact instead. For example, data from orbiting telescopes show us that absolutely no two planets in the universe are the same. Each one has its own unique chemistry, rotational period (aka "day"), revolutionary period (aka "year"), and other quirks. Before beginning on even the first draft of The Great Succession Crisis, I spent a month doing the math and calculations needed to create a believable planet Beinan, often working with engineers so that everything lines up accurately.
While working on Ghosts, I spent three weeks with three different types of periodic tables working out what Lord Elendir finds at the ruins of the healing center where his father perished. To date, twelve elements/isotopes hold Beinarian names (see http://www.peersofbeinan.com/QR-page-index.html)
That is just a tiny sample of the amount of research I've done and what goes into these books. I've talked to veterans, doctors, engineers, chemists, biologists, ecologists, and dozens of other professionals, all in my quest to get my details exactly right. So when Lord Kian perishes to a crossbow quarrel near his heart, his final words and the amount of time it takes him to die is medically accurate. That could only happen through the assistance of the ER doctor who helped me and to whom I owe a debt of gratitude.
Do you work on an outline or plot before you start writing?: I outline a little bit; obviously working on trilogy arcs for my series (which I hope to bring to at least twelve novels before it is complete), I have to outline so I know the arc of the trilogy. But most of the details and plot twists in particular happen organically. The characters decide where they want to go. This is particularly true for the Great Succession Crisis character who decided that he wanted to be a main character in book three, Princess Anyu Returns, even though Returns is set more than two hundred yen-ars (Beinarian years) past the maximum date he could have lived to. This has completely transformed the plot outline for Returns and I think will make the book an even more exciting read, especially since you do not learn exactly who he is until Princess Anyu does.
What is the hardest thing about writing?: I am a perfectionist, so one of the most difficult things for me is to let something I've written stand as is without editing it dozens of times — or deleting scenes/chapters outright and starting completely over. It can really extend out the writing process, but in the end, I have to be happy with the draft in hand before I release something. There's no point publishing until the story is as perfect as it can be.
What is the easiest thing about writing?: Believe it or not, the research is the easiest part for me. I love learning. It rarely matters what academic discipline something belongs to; as long as something does not terrify me or gross me out, I'm usually pretty interested in learning more about it.
How long on average does it take you to write a book?: One to two years is coming out about average for me, but it depends on a lot of things. Ghosts took me about ten months to write, even though it is twice as long as GSC which took me around 18 months to write. Returns is taking longer. Part of that is the amount of time I'm spending promoting the first two books, but another component to it is that Returns moves the story to the hostile alien world D425E25 Tertius. I have to maintain a Beinarian point of view for consistency reasons and that slows down the writing process a great deal for me. Every time I mention time in any way, I basically have to sit down with a calculator. That wasn't an issue in either of its prequels because my characters were all on their own world and in their native time.
Do you edit your book right after you finish or let it sit for awhile?: I constantly edit as I write, after completing my first draft, even after initial publication as I find tiny things my perfectionism is not happy with. That editorial process means I've started and restarted Returns about four times. For me, editorial is almost non stop, even after publication.
What do you do to get book reviews?: I give away a lot of copies, both digital and paperback to GoodReads members, bloggers, and book reviewers in exchange for their honest opinions.
The other thing I do is follow up with the acquaintances from work and from social media who have purchased my books. Sometimes it takes a while, but most people, when asked nicely, will post a review for you.
What advice would you give to aspiring writers?: Two words: research and practice. There is absolutely no substitute for either one of them. The craft of writing is not something you can just do — no matter how talented you are. It takes time and many years of practice to really refine your skills. There is no shortcut for this. Writing is something you learn by doing.
Research is critical to your success as a writer because it establishes credibility. Imagination is not enough because there is only so much suspension of disbelief. The more grounded you are in fact, the more your imaginative details will make sense and will be accepted.
Research is especially critical in historical genres. Always assume that your reader knows more about your setting and any historical persons you feature as characters than you do. When you write with people who know your subject better than you do in mind, it keeps you centered, grounded, and detail oriented.
Finally, always make sure your cover art details actually match your settings. I've seen thousands of books set in one time with covers depicting another, especially with romance books. When content and cover art costuming don't match, your reader will rarely give your book a second look. Avoid this mistake and choose wisely.
Website: http://www.peersofbeinan.com/
Blog: http://peersofbeinan.wordpress.com/
Yahoo Voices: http://contributor.yahoo.com/user/564524/laurel_a_rockefeller.html
Facebook: https://www.facebook.com/PeersOfBeinan
Twitter: https://twitter.com/laurelworlds
Lnkedin: http://www.linkedin.com/company/the-peers-of-beinan-series
Pinterest: http://www.pinterest.com/peersofbeinan/peers-of-beinan/
Amazon Author Page: http://www.amazon.com/Laurel-A.-Rockefeller/e/B008YVJJFE/
Smashwords: https://www.smashwords.com/profile/view/laurelarockefeller
Book Links:
http://www.etsy.com/listing/153254126/the-great-succession-crisis-extended
http://www.etsy.com/listing/153424940/the-ghosts-of-the-past-digital-book
https://www.smashwords.com/books/view/311557
https://www.smashwords.com/books/view/296320
http://www.amazon.com/dp/B00B9IBFCY/
http://www.amazon.com/dp/B00BVBHNDO/
https://www.createspace.com/4367566
https://www.createspace.com/4156679
https://www.createspace.com/4163300
http://www.amazon.com/Great-Succession-Crisis-Extended-Beinan/dp/1482340550
http://www.amazon.com/Succession-Crisis-Interactive-Extended-Beinan/dp/149103209X
http://www.amazon.com/Great-Succession-Crisis-Large-Extended/dp/1482384175
https://www.createspace.com/4211143
https://www.createspace.com/4375671
https://www.createspace.com/4211600
http://www.amazon.com/Ghosts-Past-Peers-Beinan/dp/1482794489
http://www.amazon.com/Ghosts-Past-Interactive-Peers-Beinan/dp/1491085363
http://www.amazon.com/Ghosts-Large-Edition-Beinan-Volume/dp/1482797372
Goodreads: https://www.goodreads.com/author/show/6569976.Laurel_A_Rockefeller
I would like to thank Laurel for her time in completing the interview.