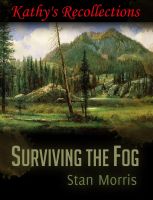 Bio: Stan Morris (1951-) was born in Linwood, California, to religious fundamentalist parents. He grew up in Norwalk, California and Concord, California, where he discovered the amazing world of hard science fiction and became influenced by conservative atheism and liberal humanitarianism. He moved to New Mexico in 1972, and finally to Maui, Hawaii in 1983. He worked a variety of jobs at oil and gas companies, driving situations, and computer tech operations. He retired in 2006. His first book, "Surviving the Fog," was published in 2009. He lives on a farm and grows coffee, avocados, tangerines, peaches, plumeria, a variety of vegetables and herbs, and an incredible amount of weeds. He is married to Rene Yamafuji. They have two sons.
He published "Sarah's Spaceship Adventure" and "The Colors of Passion and Love" in 2011. He is presently working on a scifi series about a solar system with one inhabited planet (Marl) and thousands of inhabited asteroids (the Hoop). "Sarah's Spaceship Adventure" is set in that world, which Stan calls, "Mackenzie's Rock." "Surviving the Fog-Kathy's Recollections," will be published at Kindle Digital Publishing on May 16.
What all have you written? Include everything:
My books include;
Surviving the Fog
Surviving the Fog-Kathy's Recollections
Sarah's Spaceship Adventure
The Colors of Passion and Love
Sam's Winnings (Tales of the Ragoon)
Kate's Movie Star (Tales of the Ragoon)
Amy's Hero (Tales of the Ragoon)
My short stories include;
A Boy and a Dog
A Valentine's Day Surprise
Encounter with a Werewolf
Gorba's Moccasins
Jessica Saves the International Space Station
Old Henrietta
Quantum People
Rogue World
San, the Amphibian
The Choice
The Hardware Store
The Orange Trees of Los Angeles
The Qrim Chieftain
The Real American
The Tube Baby
Trouble in Paradise
Useful Ways to Use Zombies
Why Joe Had Only One Wife
New Friends (novella)
This Olde House (unfinished book)
Jane and the Alien Psychologist (Tales of the Ragoon)
Euthanasia: Jane and the District Supervisor (Tales of the Ragoon)
About the Ragoon (Tales of the Ragoon)
The Ragoon Consumption of Humans (Tales of the Ragoon)
Stony Faces
Freedom's Barn
The Time Bubble (unfinished book)
Where can we buy or see them?
My books can be purchased at Amazon, Smashwords, Barnes & Nobles, iTunes and other book sites.
My short stories can be found at my website.
https://sites.google.com/site/stanandrene/books/stan-s-short-stories
Tell us a little bit about your main character:
Kathy is fourteen, blue eyed, and blond. She is a shy girl who is slightly introverted. She was born in Concord, California, and at the beginning of this book she is living in Morgan Hill, California. She is just about to finish the eighth grade when her parents send her to a camp that preaches abstinence and teaches methods of birth control. She is not happy about this.
"I had no problem with abstinence, and I was not interested in learning how to roll a condom onto a penis."
What are you working on at the minute?
At this time I am alternating between two books, The Beautiful Alien Nerd and Surviving the Fog-Douglas Lives.
What is it about?
The Beautiful Alien Nerd is about a young female agent sent to Earth to encourage and help the development of space travel. A mishap causes her to land near Roswell, New Mexico instead of her original destination, Moscow, Russia. She is forced to gather a group of disparate high school students to help her decide how to proceed with her mission. Surviving the Fog-Douglas Lives is the story of a man who comes to the aid of a little girl and a young woman.
What genre are your books?
The Beautiful Alien Nerd is a science fiction book. Surviving the Fog-Douglas Live is a post apocalypse book.
What draws you to this genre?
Both science fiction and post apocalypse are genres that allow the authors imagination to go wild. I like that. I like world creation, and I like being able to suggest ideas and to criticize conventional thinking.
Do you have to do research for your books?
Always. I'm in Roswell, New Mexico this month (Nov) visiting family and doing research for The Beautiful Alien Nerd. I'm visiting farms, churches, museums, theaters, and the Roswell branch of Eastern New Mexico University.
I purchased some books about plants when I wrote Surviving the Fog. Wikipedia is my best friend.
When did you decide to become a writer?
I don't know that I decided to become a writer as much as I decided to write. I've been writing novels since I was fourteen.
Do you aim for a set amount of words/pages per day?
No I can't do that. I write as much as I feel like writing. Some days I churn out thousands of words, and some days I might manage a few.
Do you work on an outline or plot before you start writing?
For most books I do make an outline, but there are occasions when I just write until I am tired of the book.
What is the hardest thing about writing?
Segues between scenes. If I have a scene in my mind, it's easy to put in the word processor, but segueing between scenes requires real work.
What is the easiest thing about writing?
Coming up with ideas. I never have any trouble with this. My characters come to me and demand that I write their stories.
How long on average does it take you to write a book?
After seven books I would say that it takes me about six months to write and three months to edit.
Do you edit your book right after you finish or let it sit for awhile?
I let it sit for about two weeks before I return to it. During this time I deliberately turn to some other piece of work.
Who edited your book and how did you select him/her?
I did the editing myself, but not until I had my wife read the book and make corrections.
How are you publishing this book and why?
I always epublish my books at Smashwords and at Kindle Digital Publishing. It's faster and that allows me to return to writing faster than if I went through a paper publisher.
How do you market your books?
Very badly. I try to get buzz from social media, especially through book sites like Goodreads, Writer's Café, and Readwave. I run ads sometimes, including Google ads.
What do you do to get book reviews?
I ask politely. That is the best, most successful method.
What advice would you give to aspiring writers?
Post your writing at sites like Writer's Café and Readwave. Writing is a learned skill like any other skill. You need to get feedback.
Website: https://sites.google.com/site/stanandrene/
Blog: https://www.goodreads.com/author/show/2884264.Stan_Morris/blog
Twitter: https://twitter.com/morriss003
Lnkedin: http://www.linkedin.com/profile/view?id=144288678&trk=nav_responsive_tab_profile
Pinterest: http://www.pinterest.com/morriss003/
Amazon Author Page: http://www.amazon.com/Stan-Morris/e/B004KB2HG0/ref=ntt_athr_dp_pel_1
Smashwords: https://www.smashwords.com/profile/view/morriss003
Book Links: http://www.amazon.com/dp/B00CSY4FSY
https://www.smashwords.com/books/view/314034
http://www.barnesandnoble.com/w/surviving-the-fog-kathys-recollections-stan-morris/1115446320
https://itunes.apple.com/us/book/surviving-fog-kathys-recollections/id652920621?mt=11
Goodreads: https://www.goodreads.com/book/show/17927902-surviving-the-fog-kathy-s-recollections
I would like to thank Stan for his time in completing the interview.